Executive Coach, Author, Speaker
Keynote speaker and workshop leader –
Business Leadership is a privilege and a sacred responsibility
Why? Because business leaders make the most impact in the world today. You are directly or indirectly affecting the lives and livelihood of 100s, 1000s, and millions of people.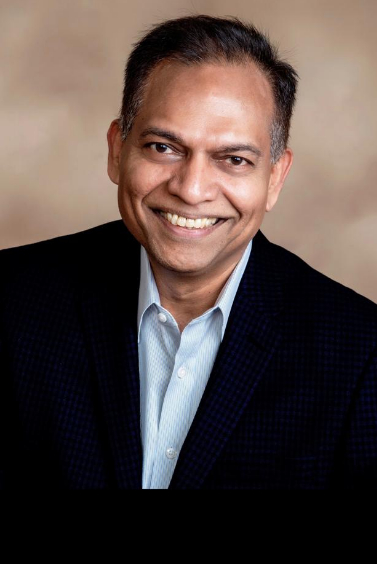 Business performance is about leadership. Successful leaders are adept at growing profitable businesses utilizing their functional expertise (such as finance, technology, marketing, and manufacturing) and passion, drive, and accountability. They are directive, depend on hierarchical authority to motivate or get compliance, and tend to be guarded. In this state, self-interest is the primary driver, and self-centered ego fuels and propels us. This success understandably comes with high stress, low trust, weak leadership team collaboration, poor employee engagement, and a sense of emptiness and lack of fulfillment. It is a self-inflicted wound and doesn't have to be that way.
As we evolve, we naturally become more secure and inclusive and develop other leaders. We proactively encourage diversity of ideas and thoughts. We are humbler and more empathetic. Leaders operating in this state are facilitative, open, and vulnerable and utilize moral authority to inspire and get buy-in. They recognize that Business Leadership is a privilege and a sacred responsibility to lead an inspired life and inspire their stakeholders to be the best they can be. They feel purposeful and are typically referred to as Conscious, Servant, or Self-actualized Leaders.
I call them 3.0 Leaders. Successful leaders are 2.0 Leaders.
My Mission is to partner with successful 2.0 leaders in their journey to 3.0 Servant leaders and help them build exceptionally profitable organizations by infusing a culture where profit and purpose reinforce each other. Doesn't it make practical sense to nurture an environment of professional excellence and personal fulfillment? We spend more than 50% of our waking time at work. Shouldn't the precious time we spend at work be purposeful and focused on unleashing the full potential of the people and unlocking the full value of the organization?
This is simple to understand but not easy to implement because it requires us to go against the grain of conventional wisdom. It requires leaders to take a deep inner journey to change themselves first before changing others. This will give them the moral authority to inspire change. Every business conducts the same fundamental tasks: Communicate, make decisions, develop and implement strategies, evaluate, compensate, and incentivize its people. How we perform those tasks and partner with customers, suppliers and stakeholders determine our progress in building a purposeful and profitable organization.
This proven process guarantees progress when followed diligently and involves three practical steps:
1. Personal Mastery – Mindset. You will unleash your best version with a crystal clear personal and professional Vision.

2. Organizational Mastery – Skillset. You will build a high-trust and high-performance mutually accountable leadership team.

3. Blueprint. You will develop an Execution Roadmap that aligns and engages the whole organization to accomplish the twin objectives of exceptional financial performance and a great place to work.
If you want to learn more about taking this Journey, please choose one of the options below so I can understand your approach to Business Leadership and determine how best to help you.
Purpose and Profit mutually reinforce each other in Business. I am interested in further developing my leadership skills and building a cohesive leadership team and an engaged organization.
Purpose and Profit mutually reinforce each other in Business. I am interested in further developing my leadership skills and building a cohesive leadership team and an engaged organization.
The primary purpose of business is to maximize profit. Activities focused on inclusive leadership, culture, and engaging stakeholders are distractions.
If you are interested in learning more about inclusive leadership and building a purposeful and profitable organization, you can browse through my website for articles and videos. You can also
read my book
,
CEO Mastery Journey.
The Book is available at: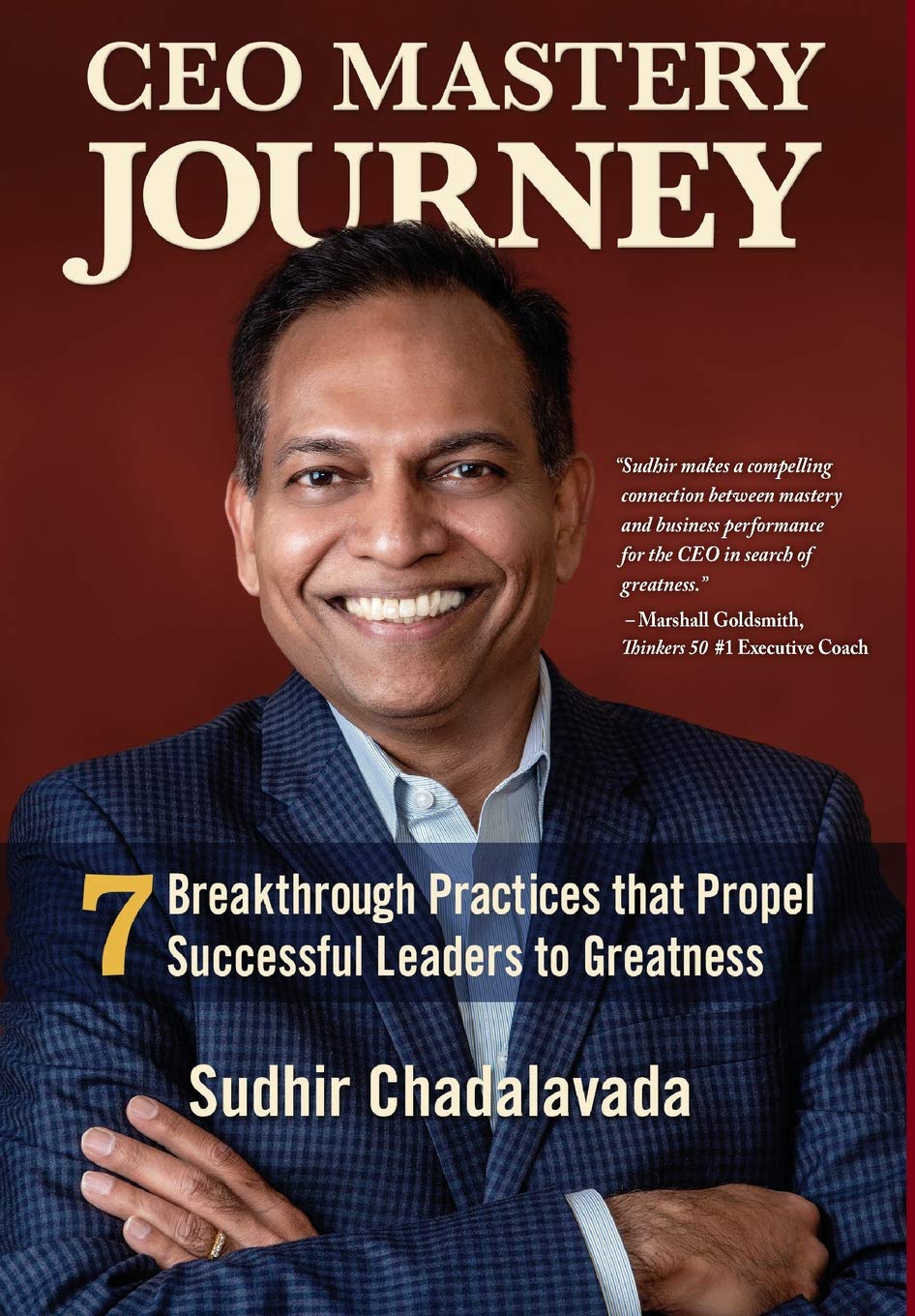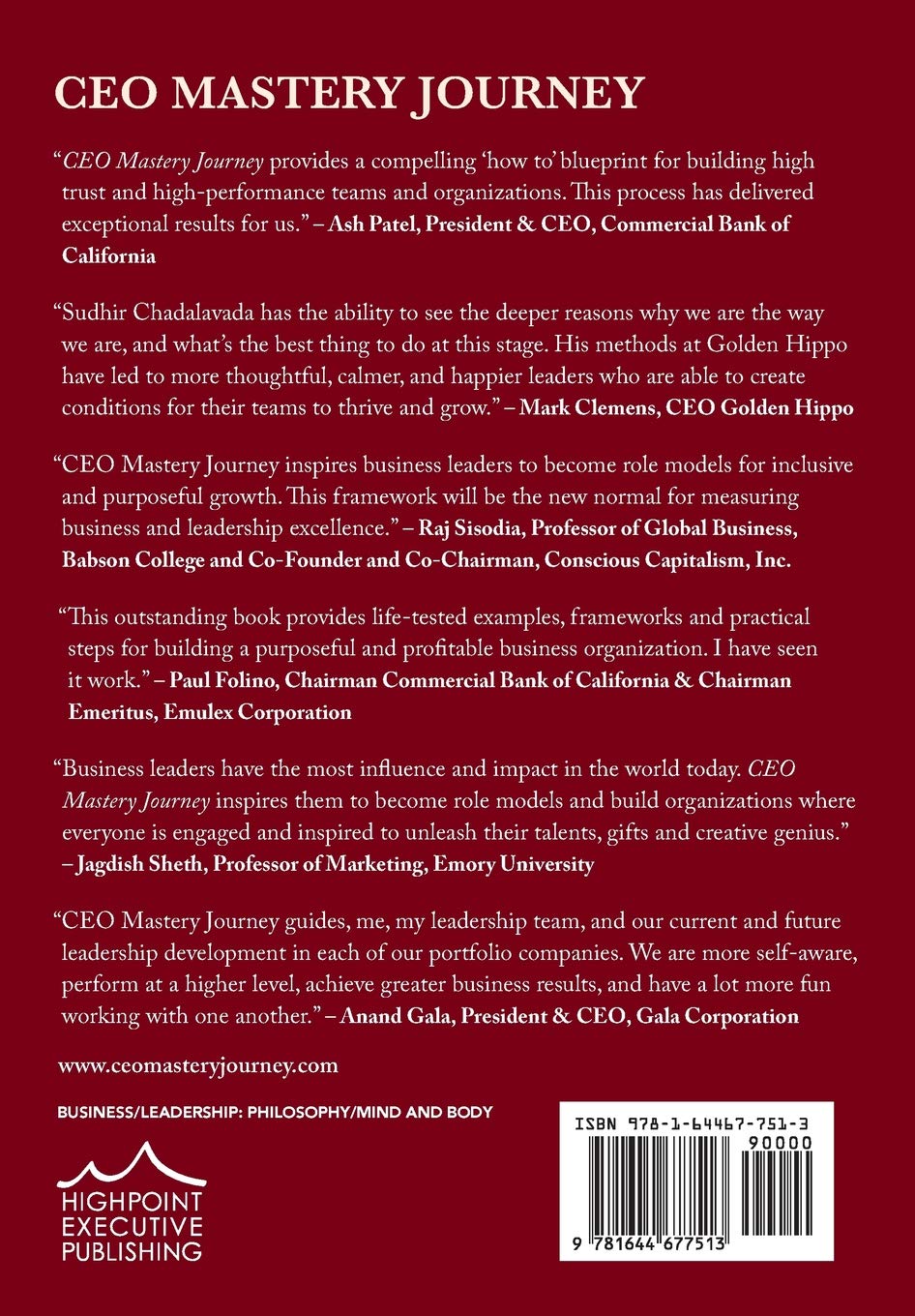 A clip from Sudhir's workshop
See what client's think about Sudhir
"Sudhir digs deep and makes a compelling connection between mastery and business performance for the CEO in search of greatness. CEO Mastery Journey delivers a practical how-to filled with insights and makes profound concepts easy to grasp and applicable in a direct, inspiring way."
- MARSHALL GOLDSMITH
Thinkers 50 #1 Executive Coach and only two-time #1 Leadership Thinker in the world. Bestselling author of Triggers and What Got You Here Won't Get You There.
"Sudhir has mastered the art and science of inspiring and effective leadership. CEO Mastery Journey provides a compelling "How to" blueprint for building high trust and high-performance teams and organizations. This process has delivered exceptional results for us."
- ASH PATEL
President & CEO, Commercial Bank of California
"Sudhir Chadalavada has the ability to see the deeper reasons why we are the way we are and seems to know what stage we're at in our growth, and what's the best thing to do at this stage. His methods at Golden Hippo have led to more thoughtful, calmer, and happier leaders who are able to create conditions for their teams to thrive and grow."
- MARK CLEMENS
CEO Golden Hippo
"CEO Mastery Journey inspires business leaders to become role models for inclusive and purposeful growth. Sudhir presents a comprehensive roadmap to develop conscious leadership and build a conscious organization. This framework will be the new normal for measuring business and leadership excellence."
- RAJ SISODIA
Professor of Global Business, Babson College and Co-Founder and Co-Chairman, Conscious Capitalism, Inc.
"Very seldom do I meet someone who really 'speaks my language.' Sudhir gets it – he correctly emphasizes the importance of leadership behavior and skill in building a purposeful and profitable business organization. This outstanding book provides life-tested examples, frameworks and practical steps to make this happen. I have seen it work."
- PAUL FOLINO
Chairman Commercial Bank of California & Chairman Emeritus, Emulex Corporation
"Business leaders have the most influence and impact in the world today. CEO Mastery Journey inspires them to become role models and build organizations where everyone is engaged and inspired to unleash their talents, gifts and creative genius."
- JAGDISH SHETH
Professor of Marketing, Emory University
"I have been blessed to have found Sudhir along my journey; it is rare that you find someone who can be so helpful and so selfless. CEO Mastery Journey guides, me, my leadership team, and our current and future leadership development in each of our portfolio companies. Through insights and tools gained from reading and practicing the teachings, we have transformed our business and our lives on our journey to be our best selves. We are more self-aware, perform at a higher level, achieve greater business results, and have a lot more fun working with one another."
- ANAND GALA
President & CEO, Gala Corporation
"If you are looking to be an elite CEO or leader and want your organization to be considered one of the greatest places to work, treat yourself to Sudhir's work and allow it to be your playbook! This book guides you to your own awakening, expansion and realizations that will help you quickly transform yourself, your leadership quotient, your team and your organization's capacity to thrive and prosper in these changing times. If you are ready to move past being successful to living a life of significance, fulfillment and service, then dig deeply into yourself through the pages that follow!"
- KEVIN RAFFERTY
Executive Coach, CEO, and Author of the book Wake Up, Get Real, Be Happy - Becoming Your Authentic Self
"Promises made and kept. Sudhir Chadalavada set the bar high for himself and his readers by stating he'd answer three questions. Indeed, by the end of the book, we do have answers to: 1. How can being more personally aware, evolved, or conscious make me a more effective professional and better business leader? 2. How do I know how conscious I am? Can we measure and track personal development and consciousness? And 3. How can I become more conscious? How do I accelerate my growth? One can ask no more of an enlightened and skillful author than to make and keep promises. Sudhir is that author."
- DAVID KINNEAR
CEO dbkAssociates, Inc., Vistage Chair, Center for Credentialing, and Education Board Certified Coach and Certified Veteran Development Coach
"Sudhir not only talks the talk… he walks the walk! Human capital and conscious leadership are concepts that are foreign if not downright esoteric to most business leaders. Sudhir has a deeper understanding than most and an uncanny ability to deliver the methodologies to successfully help organizations transform from the old paradigms of business to become, as he has coined it, 'the change they want to be'. I have personally experienced two of those successful journeys with him."
- JAY JANNISE
Executive Vice President, CITO/ISTO, Commercial Bank of California